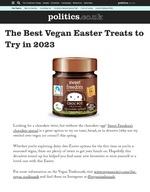 Politics.co.uk
Looking for a chocolate twist, but without the chocolate egg? Sweet Freedom's chocolate spread is a great option to try on toast, bread, or in desserts (why not try swirled over vegan ice cream?) this spring.
April 2023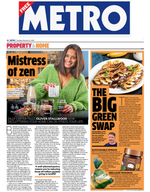 Metro
Sustainable Spread
Palm oil is responsible for huge amounts of deforestation but is hard to avoid in processed foods, especially chocolate spread.
The Sweet Freedom Choc Pot, however, is palm oil free. It's also vegan.
£3 from sweetfreedom.co.uk as well as Tesco, Sainsburys, Ocado, Waitrose and Morrisons
February 2023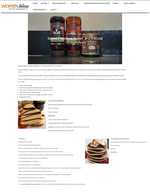 Woman Talking Online
Cut the calories but not the taste!
Sweet Freedom's range of multi-award-winning vegan syrups and spreads give you the option to have all the taste and none of the nasties, with the added benefit of lower calories and fat.
Their Great Taste Award-winning SYRUPS range in practical top-down fully recyclable bottles for scrumptious drizzling, perfect sweetening, baking, and stirring into hot drinks.
Women Talking had the opportunity to try the Caramel Syrup for drinks and drizzling and the Choc Shot for hot chocolate and drizzling and found a super recipe from their website to try both.
February 2023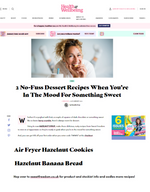 Health & Wellbeing
Whether it's a yoghurt with fruit, a couple of squares of dark chocolate or something sweet like a classic berry crumble, there's always room for dessert.
Using its new HAZELNUT SYRUP, make these delicious, nutty recipes from Sweet Freedom to store in a Tupperware so they're ready to grab when you're in the mood for something sweet.
January 2023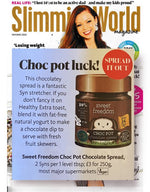 Slimming World Mag
Choc Pot Luck! This chocolatey spread is a fantastic Syn stretcher. If you don't fancy it on Healthy Extra toast, blend it with a fat-free natural yogurt to make a chocolate dip to serve with fresh fruit skewers.
October 2022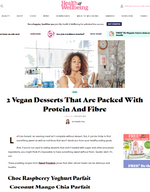 Health & Wellbeing
Vegan desserts that are packed with protein and fibre...
Let's be honest: an evening meal isn't complete without dessert. But, it can be tricky to find something sweet as well as nutritious that won't derail you from your healthy eating goals.
And, if you're not used to eating desserts that aren't loaded with sugar and other processed ingredients, you might think it's impossible to have something sweet without them. Spoiler alert: it's not.
These pudding recipes from Sweet Freedom prove that after-dinner treats can be delicious and healthy.
July 2022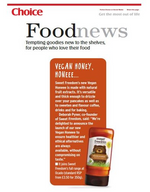 Choice magazine
Tempting goodies new to the shelves, for people who love their food Vegan Honey, Honeee... Sweet Freedom's new Vegan Honeee is made with natural fruit extracts. It's versatile and thick enough to drizzle over your pancakes as well as to sweeten and flavour coffee, drinks and for baking.
Deborah Pyner, co-founder of Sweet Freedom, said: "We're delighted to announce the launch of our new Vegan Honeee to ensure healthier and ethical alternatives
are always available, without compromising on taste."
It joins Sweet Freedom's full range at Ocado.
May 2022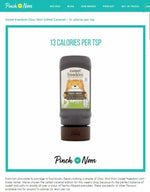 Pinch of Nom
From hot chocolate to porridge to fruit bowls, there's nothing a drizzle of Choc Shot from Sweet Freedom can't make tastier. We've chosen the Salted Caramel edition for this week's shop because it's the perfect balance of sweet and salty to drizzle all over a stack of freshly-flipped pancakes. There are plenty of other flavours available too for around 13 calories per tsp.
Sweet Freedom Choc Shot Salted Caramel is available from Ocado.
February 2022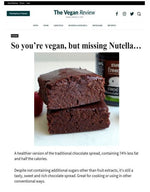 The Vegan Review
So you're vegan, but missing Nutella…
A healthier version of the traditional chocolate spread, containing 74% less fat and half the calories. 
Despite not containing additional sugars other than fruit extracts, it's still a tasty, sweet and rich chocolate spread. Great for cooking or using in other conventional ways.
February 2022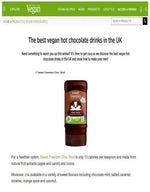 Vegan Food & Living
The best vegan hot chocolate drinks in the UK...
Need something to warm you up this winter? It's time to get cosy as we discover the best vegan hot chocolate drinks in the UK and show how to make your own!
For a healthier option, Sweet Freedom Choc Shot is only 13 calories per teaspoon and made from natural fruit extracts (apple and carob) and cocoa. Moreover, it is available in a variety of sweet flavours including chocolate mint, salted caramel, brownie, orange spice and coconut.
January 2022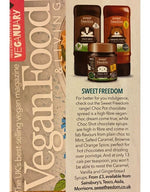 Vegan Food & Living magazine
For better for you indulgence, check out the Sweet Freedom range! Choc Pot chocolate spread is a high fibre vegan choc dream come true, while Choc Shot chocolate syrups are high in fibre and come in fab flavours from plain choc to Mint, Salted Caramel, Brownie and Orange Spice, perfect for hot chocolates and drizzling over porridge. And at only 13 cals per teaspoon, you won't be able to resist the Caramel, Vanilla and Gingerbread Syrups. From £3, available from Sainsbury's, Tesco, Asda, Morrisons, sweetfreedom.co.uk
December 2021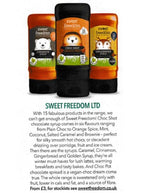 Vegan Food & Living
With 15 fabulous products in the range, we can't get enough of Sweet Freedom!
Choc Shot chocolate syrup comes in six flavours ranging from Plain Choc to Orange Spice, Mint, Coconut, Salted Caramel and Brownie - perfect for silky smooth hot chocs, or decadent drizzling over porridge, fruit and ice cream. Then there are the syrups. Caramel, Cinnamon, Gingerbread and Golden Syrup, they're all winter must-haves for lush lattes, warming breakfasts and tasty bakes. And Choc Pot chocolate spread is a vegan choc dreams come true. The whole range is sweetened only with fruit, lower in cals and fat, and a source of fibre.
From £3, for stockist see sweetfreedom.co.uk
December 2021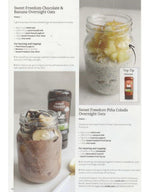 Plant Based News
Sweet Freedom Chocolate & Banana Overnight Oats and Pina Colada Overnight Oats.
Two delicious recipes from Sweet Freedom.TOP TIP: Drizzle with Fruit Syrup.Find Sweet Freedom Choc Shot on the hot choc shelf in Sainsbury's, Tesco, Waitrose, Asda and Morrisons, plus Ocado.com and Holland & Barrett. Sweet Freedom Fruit Syrup is in Sainsbury's (with the honey), Waitrose (with the sugar), plus Ocado.com and Holland & Barrett.
October 2021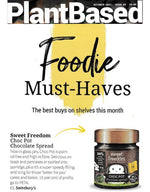 Plant Based News
Foodie Must-Haves...
Now in glass jars, Choc Pot is palm oil free and high in fibre. Delicious on toast and pancakes or swirled into porridge, plus it's a super speedy filling and icing for those 'better for you' cakes and bakes. 10 percent of profits go to PETA.
£3, Sainsbury's
October 2021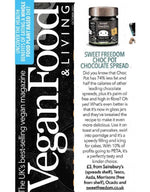 Vegan Food & Living magazine
Did you know that Choc Pot has 74% less fat and half the calories of other leading chocolate spreads, plus it's palm oil free and high in fibre? Oh yes! What's even better is it's now in glass jar's and they have tweaked the recipe to make it even more delicious. Use it on toast and pancakes, swirl into porridge and it's a speedy filling and icing for cakes. With 10% of profits going to PETA, it's a perfectly tasty and kinder choicer.
£3 from Sainsbury's (spread shelf), Tesco, Asda, Morrisons (free from shelf), Ocado and sweetfreedom.co.uk
October 2021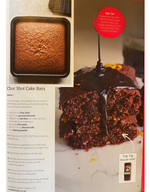 Plant Based News
These squidgy choc squares will be a big hit with friends and family, and anyone opening their lunchbox to find them!
TOP TIP: Replace the Choc Shot with Choc Shot Orange Spice to make Choc Orange Cake Bars, or Choc Shot Coconut for Choc Coconut Cake Bars.
September 2021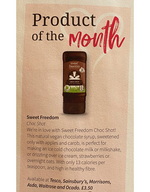 Plant Based News
Product of the month...Sweet Freedom Choc Shot
We're in love with Sweet Freedom Choc Shot! This natural vegan chocolate syrup, sweetened only with apples and carob, is perfect for making ice cold chocolate milk or milkshake, or drizzling over ice cream, strawberries or overnight oats. With only 13 calories per teaspoon, and high in healthy fibre.
Available at Tesco, Sainsbury's, Morrisons, Asda, Waitrose and Ocado. £3.50
September 2021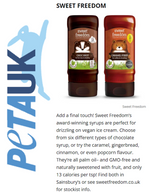 Plant Based News
Product of the month...Sweet Freedom Choc Shot
We're in love with Sweet Freedom Choc Shot! This natural vegan chocolate syrup, sweetened only with apples and carob, is perfect for making ice cold chocolate milk or milkshake, or drizzling over ice cream, strawberries or overnight oats. With only 13 calories per teaspoon, and high in healthy fibre.
Available at Tesco, Sainsbury's, Morrisons, Asda, Waitrose and Ocado. £3.50
September 2021
Plant Based Magazine
Sweet Treat Of The Month 
Recipe by Sweet Freedom.
Choc Shot and Choc Pot are available from Asda, Morrisons, Sainsbury's, Tesco, Ocado.com and TheVeganKindSupermarket.com. Waitrose also has Choc Shot on the hot chocolate shelf.
August 2021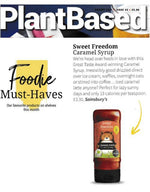 Plant Based Magazine
Foodie Must-Haves   
Sweet Freedom Caramel Syrup
We're head over heels in love with this Great Taste award-winning Caramel Syrup. Irresistibly good drizzled direct over ice cream, waffles, overnight oats or stirred into coffee...iced caramel latte anyone? Perfect for lazy sunny days and only 13 calories per teaspoon.
£3.30, Sainsbury's
August 2021